Simple Vegan Chili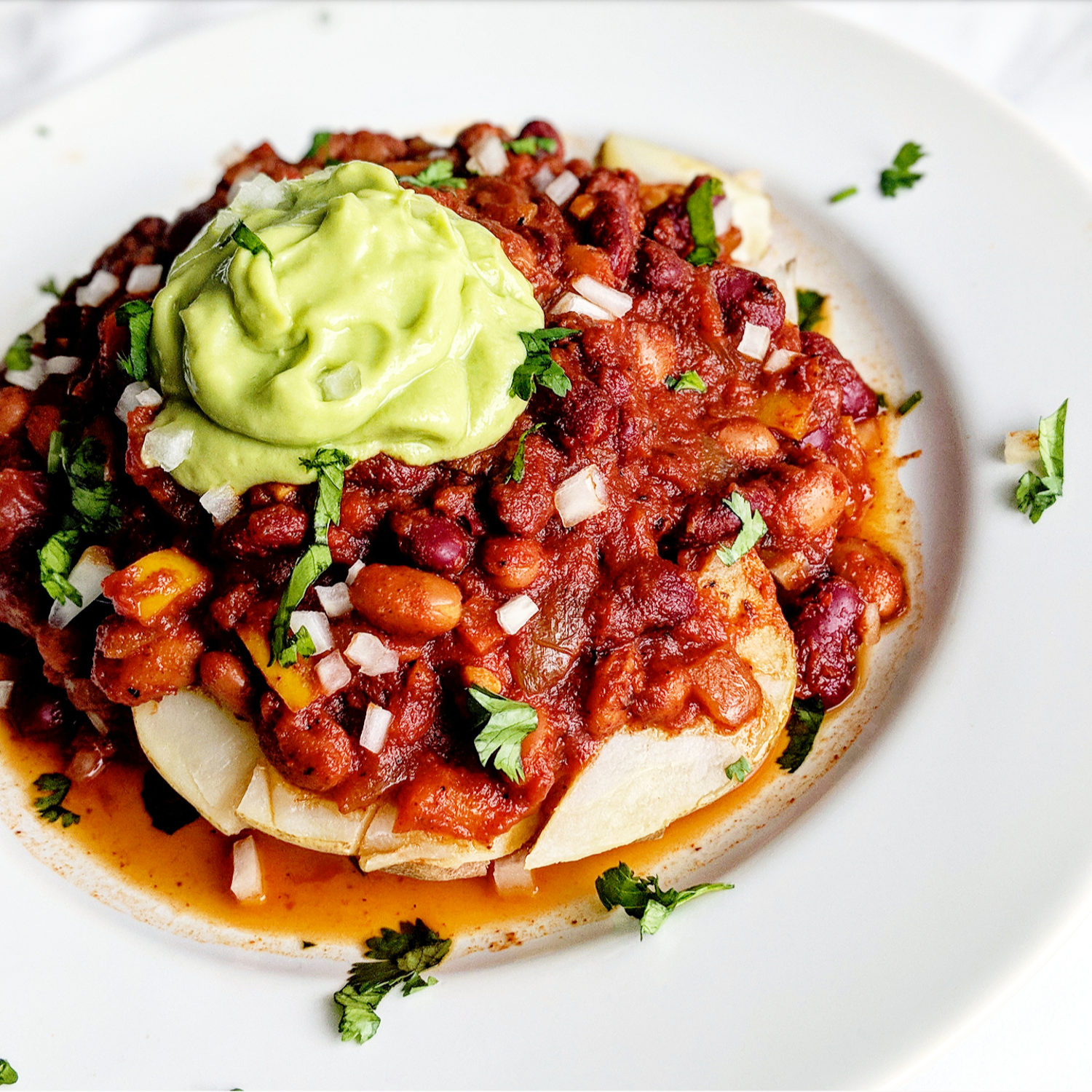 We eat this chili as is, but you can use this recipe as a starter for your own chili creation. Some add-in options are corn, other veggies, veggie crumbles, more or less chili powder, other sources of heat, nutritional yeast, and liquid smoke. Kidney and pinto are my beans of choice for chili, but use what you like or have on hand. Black beans work really well here too. You can make chili fries, serve it over rice, quinoa, baked potatoes, use as a nacho topping, or dip chips into it. There are so many chili possibilities! Definitely serve with a garnish of chopped cilantro, onions, and our avocado cream!
Serves: 6
Prep time:
Cook time:
Ingredients:
1 cup bell pepper chopped
1 cup onion chopped
3 garlic cloves minced
1 can red kidney beans drained and rinsed
1 can pinto beans drained and rinsed
1 15 oz. can tomato sauce
1 14.5 oz. can fire roasted tomatoes
1 Tbsp oil
1 Tbsp chili powder
2 tsp smoked paprika<
1 tsp salt (the amount of salt you add depends on the salt content of the canned tomatoes and sauce used. Taste before adding salt and an amount that is to your taste.)
Instructions:
Heat a large pot, add oil and sauté peppers, onions, and garlic for 4 minutes.
Add chili powder, smoked paprika, and a sprinkle of salt. Stir continually for 1 minute.
Add tomatoes and tomato sauce. Simmer for 10 minutes (optional: I pulse the tomatoes with an immersion blender a couple times to chop them into smaller pieces).
Taste and add 1 tsp salt (Add more or less depending on your preference).
Add beans, cover, and simmer 10 minutes.