Vegetable Tofu Curry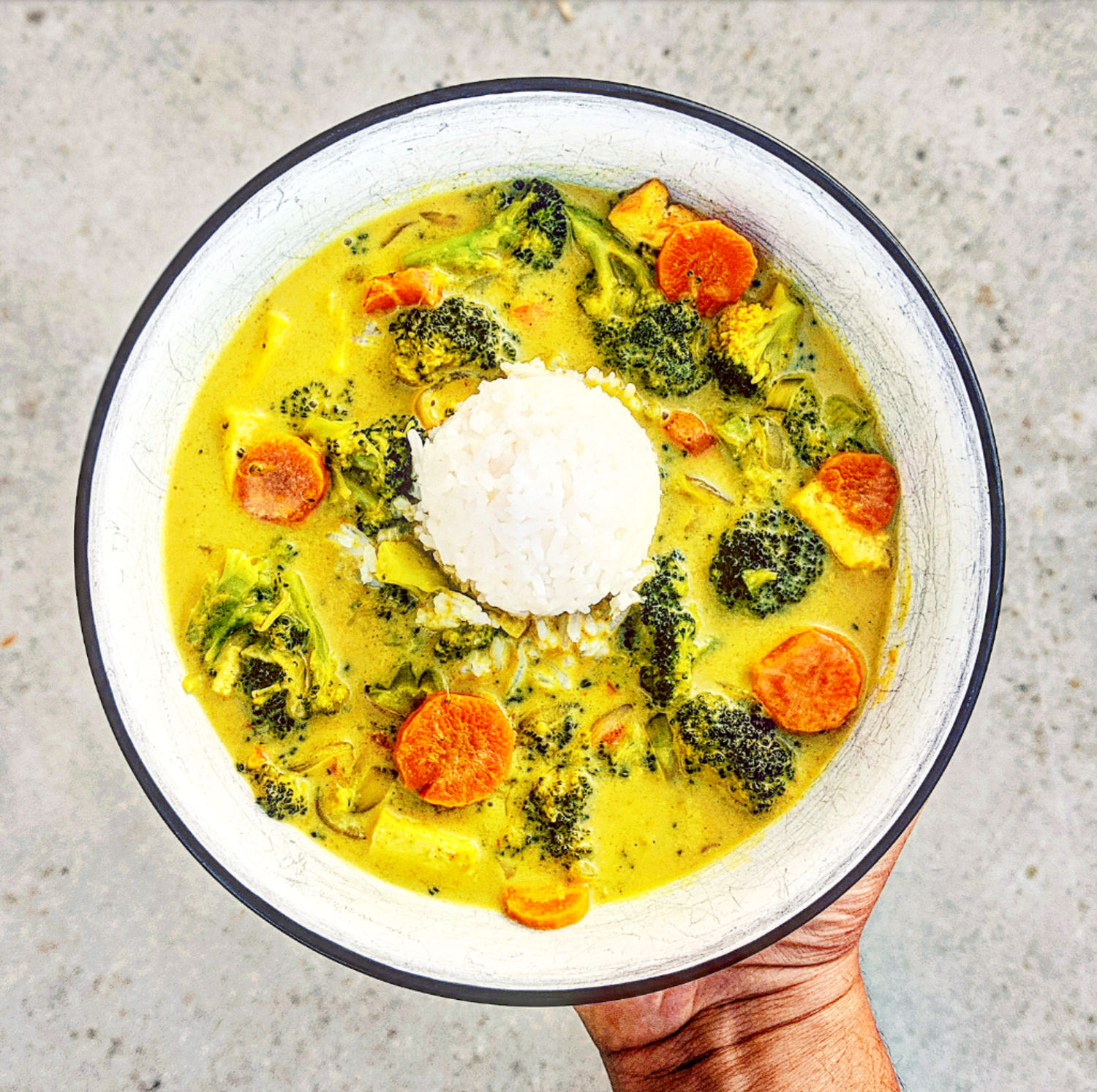 Curry is such a vegan friendly dish. You can make this with or with out tofu, I just recently started adding tofu to mine. You can get creative with your veggies or not. The recipe below uses the same veggies that are in the Thai Peanut Noodle recipe. I'm all about easy, so I use a pre-mixed curry seasoning, but you can blend your own seasoning if you wish. Sometimes I'll add extra turmeric, which really makes the color pop. Serve over rice of your choice (I use jasmine).
**If you want a thicker sauce add a small amount (1 tsp or so) of cornstarch with water to make a slurry then mix into the sauce. Stir until it thickens.
**freeze the remaining coconut milk if it's not going to be used within a few days. Defrost and use in another recipe such as Thai Peanut Noodles.
Makes: 4-6 Servings
Prep time:
Cook time:
Ingredients:
2 cups of rice prepared according to package (I add about 1/2 tsp of salt)
A few carrots peeled and sliced (equal to 1/2 - 1 cup chopped)
1 small bell pepper cut into thin slices (about 1 cup)
1/2 onion cut into thin slices just like the pepper (about 1 cup)
Broccoli cut into bite sized pieces (about 2 1/2 cups)
1 or 2 zucchini cut into bite sized pieces (about 1 1/2 cups)
1 tsp salt (start with this and add more to taste if needed)
1 Tbsp + 1 tsp Curry Powder (add more if needed)
1/2 can coconut milk about 3/4 cup (I use full fat for extra creaminess)
2 1/2 cups almond milk
Enough oil to coat the pot and sauté the veggies
1 Package Tofu - I always use extra firm (optional)
1 tsp Bragg's liquid aminos or soy sauce (optional - will only be needed if you're using tofu)
Cilantro (optional)
Instructions:
If using tofu, preheat the oven to 400 degrees.
Drain and press the tofu.
Chop the veggies into bite sized pieces.
Prepare the rice according to package.
Once drained cut the tofu into bite sized pieces, season with a sprinkle of Bragg's or soy sauce and some oil so the tofu will crisp.
Put the tofu in the oven for 20 minutes or until the edges are slightly crisp.
Heat a pot or pan on medium heat, add the oil and sauté the carrots for 2 minutes then add the peppers, onions and a dash of salt. Stir frequently.
When the carrots, onions and peppers start to soften add the curry seasoning, coconut milk, almond milk and salt. Bring almost to a boil.
Add the broccoli now, and turn down the heat to low. After a couple of minutes the broccoli will start to soften. If you are using the cornstarch slurry to thicken, add it now.
When the veggies are almost to the texture you like (soft, crisp, or whatever) add the zucchini. It cooks quickly so I turn off the heat and keep it covered and the zucchini will cook.
Taste the sauce and add more salt if needed.
Add the tofu to the vegetable mixture.
Serve over rice and with chopped cilantro if desired.